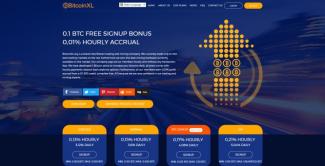 Following up on a great review by Web Market Support, BitcoinXL.org – Trading Out of Nowhere With the "Ghost" Experts, Bitcoinxl.org have since changed their company details. Now they claim to be registered under ID 10536825, which belongs to BITCOIN CORP LTD, address: Parker Centre, Alfreton Road, Derby, United Kingdom, DE1 2JH. I have found at least one other Bitcoin scam using the same details: https://www.doublebitcoin3hours.com
They have no contact form whatsoever on the site, the only way to reach them would be through the support@bitcoinxl.org email which sends registration confirmations. Unfortunately, this email doesn't work.  
It is confirmed that when you are close to reaching the 0.003 BTC earnings from their bonus (e.g. 0.00286 BTC), the "invest from balance" button disappears from the deposit options.
Trying to withdraw the minimum (0.0005 BTC) fails with the following message (typo in "at least" included):
Sorry, You haven't made an active deposit to one of our investment portfolios yet!
The Signup Bonus (+ Active Investment Profit) will be available for withdrawal after you make an active deposit of atleast 0,003 BTC.

If you want to read an external review or see payment proof click here: https://www.allhyipmonitorss.com/bitcoinxl-org/
This other site claims they do pay daily, lists around 30 scams and has only one "paying" site in their list ... yup, you guessed it: BitcoinXL.
Oh, and if that wasn't enough to identify a SCAM, in their Terms and Conditions they mention that the maximum daily withdrawal amount is 0.01 BTC. If you invest 0.5 BTC you are supposed to earn 0.018 BTC daily. These T&Cs mean that every day you withdraw you lose 0.08 BTC, and every day you don't is completely lost.
Don't waste your money on these bandits.